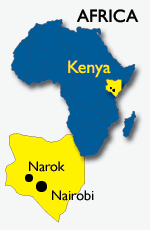 With support from many friends in the US and Austria Europe Father Ntaiyia Jubilee Primary Boarding School has become a standard learning institution where children can attend and successfully attain a strong educational foundation from which to pursue secondary school and other educational possibilities. The students and staff of Father Ntaiyia Jubilee School and Maasai community will always and gratefully recognize the extraordinary generosity of friends and well-wishers in supporting the mission of Father Ntaiyia Jubilee School and Father Ntaiyia's noble ministry of education among the Maasai people. Father Ntaiyia is also the founder of Olchekut Supat Apostolic School (OSAS) a Diocese of Ngong High School for Maasai Boys in Lemek
Narok.
MISSION:
I AM BECAUSE WE ARE: Guided by this rich African proverb, our mission is to provide a quality Primary Boarding School with a learning environment that will follow the pattern of Kenya's system of education for primary schools; a school that will soundly give students a strong foundation for proper education in order to prepare them to reach their fullest potential and for success in what they ought to be: People who share common values and goals.
VISION STATEMENT:
Provide education as the tool that will take our people forward to embrace changes to modern life and promote literacy and prosperity that benefits community's collective purpose.
MOTTO: METII NAIMUTIE KIRET (a Maasai proverb)
"There is no help that is late in arriving, for as long as it comes, it is still useful." Therefore, do not despair.
AMDG